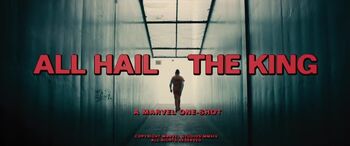 All Hail The King is a special short film by Marvel Studios, featuring the infamous and renowned character, The Mandarin. The film has British actor Ben Kingsley reprise his role as Trevor Slattery, who is now in a heavily guarded prison and is about to be interviewed to understand how he became to be as he is at present.
This section is under development. Information will be placed here soon.
Appearances
Edit
CharactersEdit
Ben Kingsley as Trevor Slattery / The Mandarin
Scoot McNairy as Jackson Norriss
Sam Rockwell as Justin Hammer
There are no current notes available on this topic, as of the moment.
There are no current trivia available on this topic, as of the moment.
References
Edit
There are no References to display.
External Links
Edit
Ad blocker interference detected!
Wikia is a free-to-use site that makes money from advertising. We have a modified experience for viewers using ad blockers

Wikia is not accessible if you've made further modifications. Remove the custom ad blocker rule(s) and the page will load as expected.