---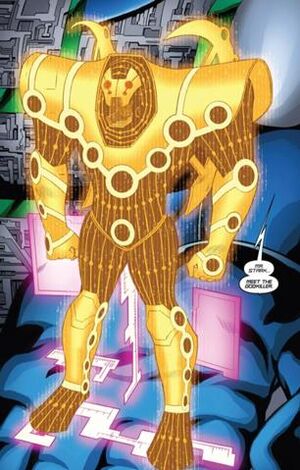 The Godkiller Armor is a 25,000 foot tall "armor" (it's really more of a giant space ship) that was used as a weapon of mass deicide.
Armor Design
Edit
The Godkiller armor was designed to kill the Celestials by the billions by the Aspirants, a rival race of cosmic beings.
According to Recorder 451, the Godkiller singlehandledly reduced the numbers of the Celestials from 'as many as the stars in the heavens' to the few that remain today, although how it did this is unknown. Godkiller has never been shown to deploy any weapons.
Having fought the Celestials to a standstill, the Aspirants fell to civil war and ended up disassembling Godkiller to build a fleet of war ships. It took Recorder 451 hundreds of years to locate, obtain and reassemble all the parts it required to be functional again.
The Godkiller has a basic artificial intelligence, but requires an especially genetically-engineered pilot to function fully. Even without, however, it can destroy an entire planet without notable effort, by simply flying through it at extreme speed.
There are no current trivia available on this topic.
There are no current trivia available on this topic.
References
Edit
There are no References to display.
External Links
Edit
There are no External Links to display.
---
Ad blocker interference detected!
Wikia is a free-to-use site that makes money from advertising. We have a modified experience for viewers using ad blockers

Wikia is not accessible if you've made further modifications. Remove the custom ad blocker rule(s) and the page will load as expected.