{{{PageName}}}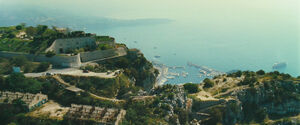 Technical Information:
Location Name: Circuit De Monaco, Monaco, France
Notable Events:
Grand Prix World Racing Event
Whiplash's Assault

Notable Features: Grand Monaco Racing Track
Geographical Information:
Country: Monaco
Location: Monte Carlo
Landscape: Mountainous, Sea
The Grand Monaco Racing Track, or famously known as The Circuit De Monaco, is a world-famous racing circuit in Monaco. It played a key role in Iron Man 2, wherein Whiplash challenges Tony Stark's strength in battle against his own.
Tony Stark decides to drive in a race on the circuit, claiming that there's no point in owning a race car if you can't drive it.
Ivan Vanko, disguised as a pit-crew worker, attacks Stark on the track, destroying his car, before Happy Hogan and Pepper Potts drive into him, all the while throwing Stark his suitcase containing the Mark V suit of armor, which Stark uses to defeat Vanko, who is also known by his villainous alter-ego Whiplash, as he is referred to in the comicbooks.
There are no current notes available on this topic, as of the moment.
There are no current trivia available on this topic, as of the moment.
External Links & References
Edit
Ad blocker interference detected!
Wikia is a free-to-use site that makes money from advertising. We have a modified experience for viewers using ad blockers

Wikia is not accessible if you've made further modifications. Remove the custom ad blocker rule(s) and the page will load as expected.