Hulkbuster Armor
Comments

2
635pages on
this wiki
Hulkbuster Armor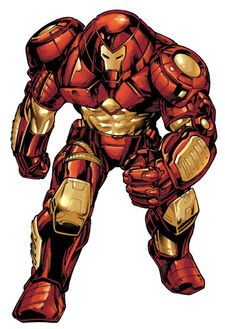 Technical Information:
1st Issue Released:  Iron Man #304
Armor Information:
Armor Class:  Hulkbuster Armor
Model Number:  Model 14
Mark Number:  None
Color Scheme:  Red & Yellow
Status:  Unknown
Armor Features:
Main Systems: --
Weapons: Repulsors
Defense Systems: --
Special Features: --
Other Features: --
Chronological Information:
The Hulkbuster Armor (Model 14), was an armor that appeared in the Iron Man Comics of the Marvel Comics Universe, which was published by Marvel Comics and created by Stan Lee, Larry Lieber, Don Heck and Jack Kirby.
The armor is an example of the Modular Armor in action, with numerous external add-ons to give it the strength and durability to combat The Hulk.
Design & Appearance
Edit
There are no current trivia available on this topic, as of the moment.
External Link & References
Edit
---