Hulkbuster Armor
Comments

9
709pages on
this wiki
Hulkbuster Armor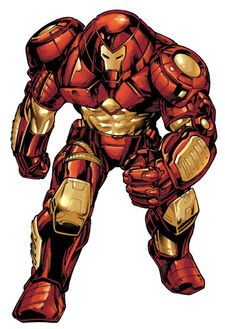 Technical Information:
1st Issue Released:  Iron Man #304
Armor Information:
Armor Class:  Hulkbuster Armor
Model Number:  Model 14
Mark Number:  None
Color Scheme:  Red & Yellow
Status: Unknown
Armor Features:
Main Systems: --
Weapons: Repulsors
Defense Systems: Ultra Hammer Arms
Special Features: Unibeam Blast
Other Features: --
Chronological Information:
The Hulkbuster Armor (Model 14), was an armor that appeared in the Iron Man Comics of the Marvel Comics Universe, which was published by Marvel Comics and created by Stan Lee, Larry Lieber, Don Heck and Jack Kirby.
The armor is an example of the Modular Armor in action, with numerous external add-ons to give it the strength and durability to combat the Hulk. 
Armor Design
Edit
The Hulkbuster I has Ultra Hammer Arms designed by Stan Lee, these are used to try to disable the Hulk from moving and weaken him.
The Repulsors are Upgraded Repulsors from Silver Centurion, which enable the Repulsors to use Frost Charge and Striker Missile. The Repulsors on this suit can handle all of Ironman's Repulsors. The Frost Charge is useless to try and freeze Hulk, so they are used to blind Hulk.
The Arc Reactor in Hulkbuster's chest can use Unibeam Blast, which may or may not damage the Hulk but is still powerful
This section is under development. Information will be placed here soon.
Flaws and Advantages
Edit
The Hulkbuster Armour has a few flaws, because the chest and arc reactor are bigger, the Hulk can easily throw a punch to the arc reactor or chest. The arms of the Hulkbuster are too small to block the chest, but can block the arc reactor. But the Hulk can do rapid hits to the Arc Reactor before Hulkbuster can react. 
But, the armour has unlimited repulsors from the arc reactor to shoot at Hulk, the repulsors are not always guaranteed to do any damage to Hulk. This suit is no match for the Hulk unless used to send energy to the arm so the punches will do more damage.
Another advantage of the armor is that the user of this Hulkbuster can enter into this armor while he/she is in another armor eg. Mark I or II but armours like EGOR can't be worn before wearing Hulkbuster. 
References
Edit
External Links
Edit
PAGE IS IN PROGRESS.
---