Home
Talk

5
221pages on
this wiki

the ultimate resource for Iron Man that anyone can edit!
Our database contains 221 articles and 771 images.

Overview
·
Help
.
Templates
·
Categories
.
Admins

Iron Man Expert Showcase
What else should we feature? Submit your nominations here!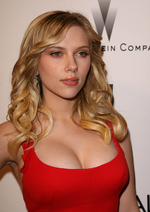 Scarlett Johansson. In Iron Man 2, Johansson's Natalie "Black Widow" Romanoff is an undercover spy for S.H.I.E.L.D. posing as Tony Stark's assistant. She reprised the role in The Avengers, where the actress displays an impressive grasp of the Russian language. In September 2010 during a press conference for the Iron Man 2 Blu-ray and DVD release, Kevin Feige stated "We've already started discussions with Scarlett about the idea of a solo movie and have begun putting together concepts. But The Avengers comes first." [1]

Read More about "ScarJo"
Who is the best actor going into Iron Man 3, other than Robert Downey Jr.?
Greetings, I would like to know if any of you fellow contributors have any information about the rest of the other newly introduced Mark suits that was featured in the movie Iron Man 3.

If you do plea…

Read more >