Crimson Cowl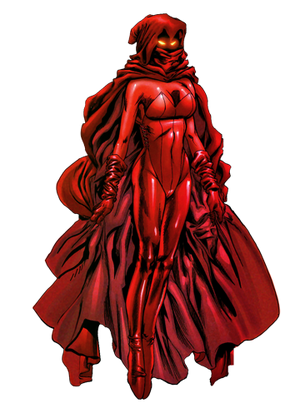 Character Data:
Created By:
  Kurt Busiek, Mark Bagley
First Appearance:
 Thunderbolts #3 (June 1997)
Editorial Names: Crimson Cowl II
Biography:
Real Name: Justine Hammer
Aliases:  Crimson Cowl
Status: Deceased
Gender:  Female
Nationality:  Symkarian
Occupation:
Industrialist
Arms Dealer

Characteristics:
Eyes: Blue
Hair:  Black
Height: 5'11
Weight: 161 lb (73 kg)
Other Features: --
Justine Hammer is a character that appeared in the Iron Man comics of the Marvel Comics Universe, that was published and created by Marvel Comics.
She is the daughter of Justin Hammer, and the second Crimson Cowl.
This section is under development. Information will be placed here soon.
There are no current notes available on this topic, as of the moment.
There are no current trivia available on this topic, as of the moment.
References
Edit
There are no References to display.
External Links
Edit
There are no External Links to display.
---
Ad blocker interference detected!
Wikia is a free-to-use site that makes money from advertising. We have a modified experience for viewers using ad blockers

Wikia is not accessible if you've made further modifications. Remove the custom ad blocker rule(s) and the page will load as expected.