Mark 42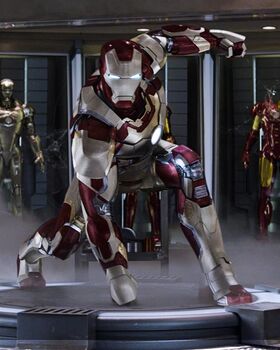 Technical Features:
Height: User's Height
Weight: 27 Lbs/12 Kg
Armor Color: Red With Light Golden Plates
Class/Type: Mark 42
Construction Cost: Unknown
System Features/Abilties:
Power Core: Vibranium Arc Reactor Mark II
Maximum Acceleration: Unknown
Maximum Altitude: Unknown
Maximum Strength Limit: Unknown
Weapons Systems: Repulsors (Repulsion Mark I), Chest Repulsor (Unibeam), Anti-Armor Missiles
Defense Systems: Enhanced Composite Armor with Ceramic Plating and Silicon-Infused Steel, Fiberglass Frame, Titanium Plating
Other Systems: Status System, Flight System, J.A.R.V.I.S. Navigation System, Anti-icing System
Chronological Information:
Followed by: None
Pepper Potts: "Oh come on Tony, why are you in that thing? You told me we would never miss date night. What mark number is this now? 12?"
Tony Stark: "Of course I wouldn't. I'm right here. ~Looks at the Mark's number; it shows 42.~ Uhm, sort of"
―Pepper and Tony talking about their date night and the Mark 42.
The Mark 42 (XLII), was the forty second suit, and was one of the many newly built suits created by Tony Stark, sometime after the events of The Avengers and before the initial events of the present Iron Man 3 timeline.
It was featured in the movie Iron Man 3, and made it's debut throughout the whole movie as Tony's main suit.
The suit is well know for it's special ability to fly in separate pieces and wrap itself around Tony's body, piece by piece through a "State-of-the-art" computer chip that was implanted in his left forearm, which enables him to mentally communicate to his armor.
Appearance
Edit
Technological Characteristics
Edit
There have been rumors that the suit's functionalities have been inspired by Warren Ellis' comic book Iron Man: Extremis.
 There has been some speculation that Mark 42 is in fact the Mark 8 or the Mark 47, due to it being the next suit created after the Mark VII (7), prior to the "House Party Protocol" suits, leaving a gap as to wether the Mark VIII (8) suit was created at all. But it is ensured that the Mark 47 (XLVII) was never created at all in the movie, as the Mark only reached until 42 in Iron Man 3.
The suit is neither Mark VIII (8) or Mark 47 (XLVII), as these two were never created in the movie and therefore never existed. The only suit there was in the movie was the Mark 42, as it was depicted in the movie and neither of the two Mark armors were ever created in the movie nor mentioned.