This Article is part of the Marvel Cinematic Universe - the universe that takes place within the MCU Franchise.
It is therefore regarded as Official and Canon Content, and is connected to all other MCU related subjects.
Spider-Man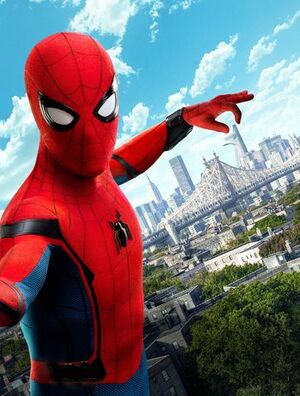 Technical Information:
Biographical Information:
Real Name: Peter Benjamin Parker
Aliases:
Spider-Man
Spiderling
Crime-Fighting-Spider
Spider-Boy
Friendly Neighborhood Spider-Man
Underoos

Affiliations:
Midtown School of Science and Technology
Status: Alive
Age: 15-16
Gender: Male
Race: Human
Nationality: American
Occupation:
High School Student
Vigilante
Physical Information:
Eyes: Brown
Skin: Fair
Hair: Brown
Physique: Muscular
Other Features: Sticky hands and feet
"I'm gonna lie close to the ground and continue being a friendly neighborhood Spider-Man. Keep helping the little guy."
―Peter Parker
Peter Benjamin Parker is a high school student and a superhero with spider-like abilities, fighting crime as his alter ego Spider-Man.
After receiving his abilities from a spider's bite, Parker chose to protect Queens from crime with his powers, juggling his superhero duties and the demands of his high school life. Despite his best efforts to keep his identity secret from the world, he was found and recruited by Tony Stark in the Avengers Civil War, gaining a new suit and technology in exchange.
Stark allowed Parker to keep the suit in his operations as Spider-Man. Parker forged a reputation for himself in New York City and became a well-known local neighborhood hero. He later stumbled into a group of criminals led by the Vulture, who were creating advanced weapons from stolen Chitauri technology, and went on a quest to defeat their leader in order to prove to Stark that he was worthy of being an Avenger. Only after defeating Vulture did Parker discover the true responsibilities of a hero.
Appearance
Edit
Personality
Edit
Powers & Abilities
Edit
Personal Life
Edit
OccupationEdit
RelationshipsEdit
Early LifeEdit
References
Edit
There are no References to display.
Ad blocker interference detected!
Wikia is a free-to-use site that makes money from advertising. We have a modified experience for viewers using ad blockers

Wikia is not accessible if you've made further modifications. Remove the custom ad blocker rule(s) and the page will load as expected.