Phil Coulson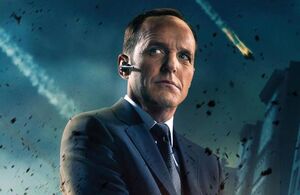 Technical Information:
Biographical Information:
Real Name: Phillip Coulson
Aliases: Agent, Agent Coulson
Status: Alive
Age: Unknown
Gender: Male
Race: Human
Nationality: American
Relatives: None
Ally Status:
Good
Bad
Neutral

Physical Information:
Eyes: Blue
Skin: Fair
Hair: Brown
Physique: Athletic
Other Features: None
Strength Level:
Extremely Weak
Very Weak
Weak
Average
Strong
Very Strong
Extremely Strong

Phil Coulson: "We need you."
Tony Stark: "Yeah, more than you know."
―Tony and Phil, before he leaves for a new mission.
Phil Coulson is an agent of S.H.I.E.L.D. (Strategic Homeland Intervention, Enforcements and Logistics Division) and reports directly to Nick Fury on all matters related to Tony Stark. He was killed by Loki in The Avengers.
Appearance
Edit
Personality
Edit
Agents of S.H.I.E.L.D.Edit
Phil Coulson was potrayed by actor Clark Gregg, in the first two films of the Iron Man franchise, as well as in The Avengers and other short feature films, such as the Marvel One-Shots.
There are no current trivia available on this topic, as of the moment.
External Links & References
Edit