Rescue
Talk

0
221pages on
this wiki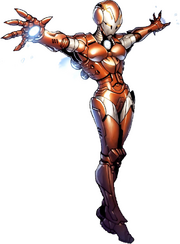 Rescue (Also Known As Virginia "Pepper" Potts) is a fictional armored character from the Iron Man comics. She and Rhodey were entrusted with these armors by Tony Stark.
In a midst of the bombing incident, Pepper has suffered shrapnel in her chest, Tony had saved her life by implanting a magnet, much like the minuturized arc-reactor, in her chest to keep her alive along with new cybernetic enhancements. Tony secretly built the 'Mark 1616 Rescue Armor' specifically designed for her and added J.A.R.V.I.S., the AI version of Edwin Jarvis into the armor to aid her.
She used the armor for helping people and fight villains alonside Iron Man and War Machine. Rescue often saves people from any harm while her two partners fights villains to give time for other civilians to escape.
"You got a bug-face." someone once told about the armor. Pepper had been captured and one of Tony's rivals had acquired the armor, along with Pepper, Maria Hill and Black Widow. When a test track, with Tony on it, is attacked by drones and Detroit Steel, Rhodey, Pepper and Tony suit up. Pepper uses her new Rescue armor to help the guys.
Equipment
Edit
The Mark 1616 armor is a heavy search and rescue, and combat operations armor armed with specific defensive weaponry and were added with other new weapons systems when the new Rescue armor replaced the Mk. 1616.
The figure and weaponry of the Rescue armor is based on the Mark IV armor but with a more feminine and different look.
It has been confirmed that Pepper Potts will not become Rescue in the movie Iron Man 3.
It is the first time that three best friends became armored heroes in the Iron Man comics.
A recolored version of Rescue appears in the TV series "Iron Man: Armored Adventures".
She is a supporting character in the special operation 9 of the game "Avengers Alliance"