Sasha Hammer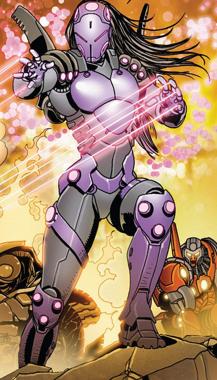 Character Data:
First Appearance:
 Invincible Iron Man #1 (July 2008)
Editorial Names: --
Biography:
Real Name: Sasha Hammer
Aliases:  Detroit Steel
Affiliations:
Status: Alive
Gender:  Female
Nationality:  American
Occupation:
Industrialist
Arms Dealer

Relatives:
Justin Hammer (Grandfather)
Justine Hammer (Mother)
Mandarin Prime (Father)

Characteristics:
Eyes: Brown
Hair:  Black
Height: --
Weight: --
Other Features: Cybernetic augmentations
Sasha Hammer is a character that appeared in the Iron Man Comics of the Marvel Comics Universe, that was published and created by Marvel Comics.
She is the granddaughter of Justin Hammer, and has piloted the Detroit Steel Armor after Lieutenant Doug Johnson's failure.
This section is under development. Information will be placed here soon.
There are no current notes available on this topic.
There are no current trivia available on this topic.
References
Edit
There are no References to display.
External Links
Edit
There are no External Links to display.
---