Tesla Roadster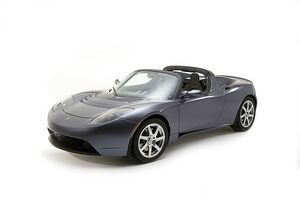 Basic Information:
Continuity:
Car Information:
Car Brand: Tesla
Car Model: Tesla Roadster
Car Color: Gray
Status: Unknown
The Tesla Roadster is a car model from the Tesla car brand. It is one of Tony Stark's cars, and can be seen in his large garage in the film, Iron Man.
This section is under development. Information will be placed here soon.
There are no current notes available on this topic, as of the moment.
It is unknown what the plate number of Tony's Tesla Roadster is. This is shared with the Saleen S7, the Shelby Cobra and the Rolls Royce Phantom.
References
Edit
There are no References to display.
External Links
Edit
There are no External Links to display.
---
Ad blocker interference detected!
Wikia is a free-to-use site that makes money from advertising. We have a modified experience for viewers using ad blockers

Wikia is not accessible if you've made further modifications. Remove the custom ad blocker rule(s) and the page will load as expected.