Ultimo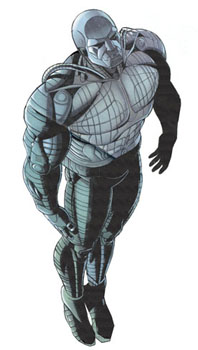 Character Data:
First Appearance:
 Tales of Suspense #76 (April 1966)
Editorial Names:
The Devastator
The Doomsday Machine
Destroyer of Worlds

Biography:
Real Name: Ultimo
Aliases:  --
Affiliations:
Status: Alive
Gender:  Male
Nationality:  Extraterrestrial
Occupation:  Gestalt Warrior
Relatives: --
Characteristics:
Eyes: Red
Hair:  None
Height: Variable
Weight: Variable
Other Features: --
Ad blocker interference detected!
Wikia is a free-to-use site that makes money from advertising. We have a modified experience for viewers using ad blockers

Wikia is not accessible if you've made further modifications. Remove the custom ad blocker rule(s) and the page will load as expected.