This Article is part of the Marvel Cinematic Universe - the universe that takes place within the MCU Franchise.
It is therefore regarded as Official and Canon Content, and is connected to all other MCU related subjects.
Ultron Mark I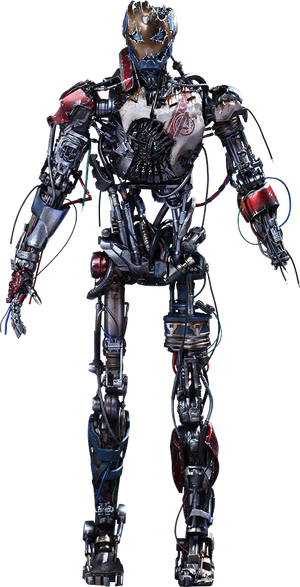 The Ultron Mark I was Ultron's first form as a robot, using the damaged body and parts of the Iron Legion Armor Drone 01. It appeared in Avengers: Age of Ultron, wherein Ultron attacked the Avengers at their party using the armor, but failed, and was later on destroyed by Thor.
Avengers: Age of UltronEdit
This section is under development. Information will be placed here soon.
There are no current notes available on this topic, as of the moment.
There are no current trivia available on this topic, as of the moment.
References
Edit
There are no References to display.
External Links
Edit
There are no External Links to display.
---
Ad blocker interference detected!
Wikia is a free-to-use site that makes money from advertising. We have a modified experience for viewers using ad blockers

Wikia is not accessible if you've made further modifications. Remove the custom ad blocker rule(s) and the page will load as expected.