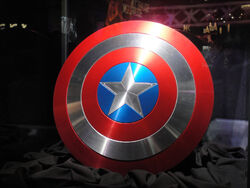 The Vibranium Shield, also known famously as Captain America's Shield, was a shield that was created by the famous Howard Stark. The shield was made out of vibranium, the rarest metal on Earth. It appears in the film,  Captain America: The First Avenger.
This was seen in IM2 when tony is trying to find vibrainum Coulson gives the prototype shield to Tony to help him balance the tubes
There are no current notes available on this topic.
There are no current trivia available on this topic.
References
Edit
There are no References to display.
External Links
Edit
There are no External Links to display.
---
Ad blocker interference detected!
Wikia is a free-to-use site that makes money from advertising. We have a modified experience for viewers using ad blockers

Wikia is not accessible if you've made further modifications. Remove the custom ad blocker rule(s) and the page will load as expected.