This Article is part of the Marvel Cinematic Universe - the universe that takes place within the MCU Franchise.
It is therefore regarded as Official and Canon Content, and is connected to all other MCU related subjects.
War Machine Armor Mark III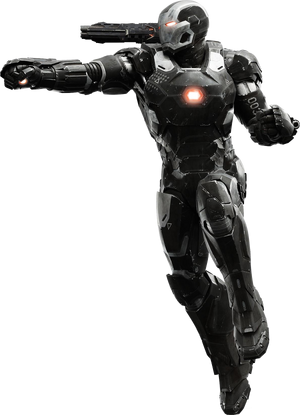 Appearances:
Continuity:
Armor Statistics:
Designer / Creator:
Users:
James Rhodes
Affiliations:
Avengers
Mark Number: Mark III (3)
Code Name: War Machine
Armor Class: War Machine Armor
Armor Type:
War Machine Mark III Suit
Armor Color:
Black and Silver Platings
Armor Height: User's Height
Status: Disabled (Arc Reactor Destroyed)
Armor Features:
Power Core:
Arc Reactor
Armor Systems:
Status System
Prepulsion System

Weapons:
Repulsors
(Repulsion Mark I)
Unibeam (Chest Repulsor)
Gauntlet-Mounted Bunker-Buster Rockets
Wrist-Mounted High-Caliber Machine-Guns
Chest-Mounted Mini-Missiles
High-Explosive Missile Pack (Left Shoulder)
Arm-Mounted Paralyzing Sonic Cannons
War Hammer

Shoulder-Mounted 360 Degree Rotating Quadruple Barreled Explosive Slug Gun
Armor Composition:
Titanium Plating
Special Features:
Shoulder-Mounted Gun
Armor Chronology:
Followed By: None
The War Machine Armor Mark III is the third version of the War Machine Armor built and created by Tony Stark for his best friend Rhodey. It is the successor to the War Machine Armor Mark II, and appeared in Captain America: Civil War.
Armor Design
Edit
The War Machine Armor Mark III's design is very similar to the War Machine Armor Mark II, only being more bulky in appearance, having a hexagonal unibeam, and having more weapons.
Armor Capabilities
Edit
This armor has all of the capabilities of its predecessor.
Armor Features
Edit
Shoulder Mounted, 360 Degree Rotating, Quadruple Barreled, Explosive Slug Gun
Hexagonal Unibeam
More Powerful Weapons
Titanium Plating
Bulky Body Armor
This armor's powerful iconic weapons can be used for a variety of functions including cutting, blasting, heating or incapacitation.
The War Machine Armor Mark III has a more powerful, rectangular, and larger version of the repulsor in the chest.
War Hammer Edit
This is a large club like non lethal taser baton to paralyze the opponent with blunt force strikes.
Other Weapons Edit
This armor is equipped with a variety of other weapons. These weapons include:
Gauntlet-Mounted, Bunker-Buster Rockets
Wrist-Mounted, High-Caliber, Machine Guns
Chest-Mounted, Mini-Missiles
High-Explosive, Missile Pack (left shoulder)
Arm Mounted, Paralyzing Sonic Cannons
Shoulder-Mounted, 360 Degree Rotating, Quadruple Barreled, Explosive Slug Gun
The armor was created sometime between the Battle Sokovia and the prelude to events of the Sokovia Accords.
Civil WarEdit
During the time of the Sokovia accords, the War Machine Armor Mark III was Rhodes' current armor. He donned it to intervene Black Panthers chase with Captain America and the Winter Soldier.
Later on Rhodes used the armor in the battle against Roger's team. After the battle, he was one of the few active members left and chased down Roger's quinjet. Falcon was tailing him, and requested Vision for backup. Vision fired a beam from the mindstone but missed his supposed target: Wilson. Instead the beam directly hit the armors reactor, disabling it. Rhodes falls to the ground, as neither Stark nor Wilson are able to catch. His fall knocks him out and leaves him paralyzed.
This armor is the third version of the War Machine Armor.
This suit has the most weapons out of all the War Machine Armors.
A maximum of 12 IMAGES ONLY can be displayed in this Page's Gallery.
If you wish to Add More Images on the topic or View the Full Gallery of the page, click here.
---
References
Edit
External inks
Edit
---
Ad blocker interference detected!
Wikia is a free-to-use site that makes money from advertising. We have a modified experience for viewers using ad blockers

Wikia is not accessible if you've made further modifications. Remove the custom ad blocker rule(s) and the page will load as expected.